FOR IMMEDIATE RELEASE
May 05, 2021
For more information, contact:
Monique Guerrero, Manager
Main Street Pontiac
Phone: (248) 571-5182
Email: [email protected]
Pontiac Launches "The Circuit" as New Social District in support to Downtown Bars and Restaurants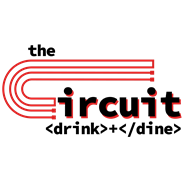 Author: Cailee Christie, Communications Coordinator at Pontiac Marketing Bureau (PMB)
Pontiac, MI – Pontiac, the heart of Michigan's history, is once again stepping up to support its local and small businesses during the coronavirus epidemic.
The recent launch of "The Circuit" as the Social District in downtown Pontiac will answer the call for increased foot traffic and support to its community through expanding alcohol consumption to the outdoors and permitting beverages to be consumed on foot within designated areas of the district. It will cost each business a one-time fee of $250.00 to obtain the Social District license and the application must be approved by the local government before the license will be granted.
In accordance with Michigan State Legislature there will be a set of guidelines that the Social District license holder must adhere to. These include but are not limited to, the container displaying the social district permittee's trade name or logo or some other mark that is unique to holder, the container displaying a logo or some other mark that is unique to the commons area, the container is not glass, and that the container has a liquid capacity that does not exceed 16 ounces.
Pontiac is joined by Clarkston, Farmington, Ferndale, Holly, Lake Orion, and Oxford all under the umbrella of Oakland County who are establishing Social Districts in their cities. It is expected that as the Social Districts prove successful in bringing life and prosperity back to the community, the flame will catch in surrounding areas.
Amidst the fear of business closures and layoffs the social district will bring new hope to the restaurants and bars currently at 50% capacity and it could not have come a moment sooner. This initiative will shine a light in the darkness for its restaurant and bar owners as well as support the residents of Pontiac and their desire to engage with the community in a safe manner. As for engagement with the community, the Canvas Pontiac Art Walk is being held June 11th, and theSk8Art fundraiser will encompass downtown Pontiac on June 21st. Visit the Pontiac Community Calendar for updated events and times.
"The Circuit", Pontiac's very own social district, will include areas in downtown Pontiac located on Saginaw St, Lawrence St, Woodward Ave, N. and S. Perry St, Lafayette St, and E. Pike Street, just to name a few.
To kick off "The Circuit," restaurants eligible to offer alcohol for consumption in the Social District areas are: Exferimentation Brewing Co., Fillmore 13 Brewery, and Liberty Bar. Soon following will be Alley Cat Cafe, Little MO, The Lafayette Grande, and Strand Theatre.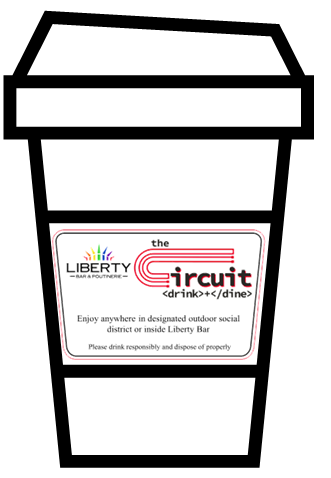 Establishments are required to serve drinks that identify the affiliated district, as well as the licensed establishment serving the beverage. All consumed beverages must be purchased from a licensed establishment within the commons area boundaries, which must be clearly marked with signage.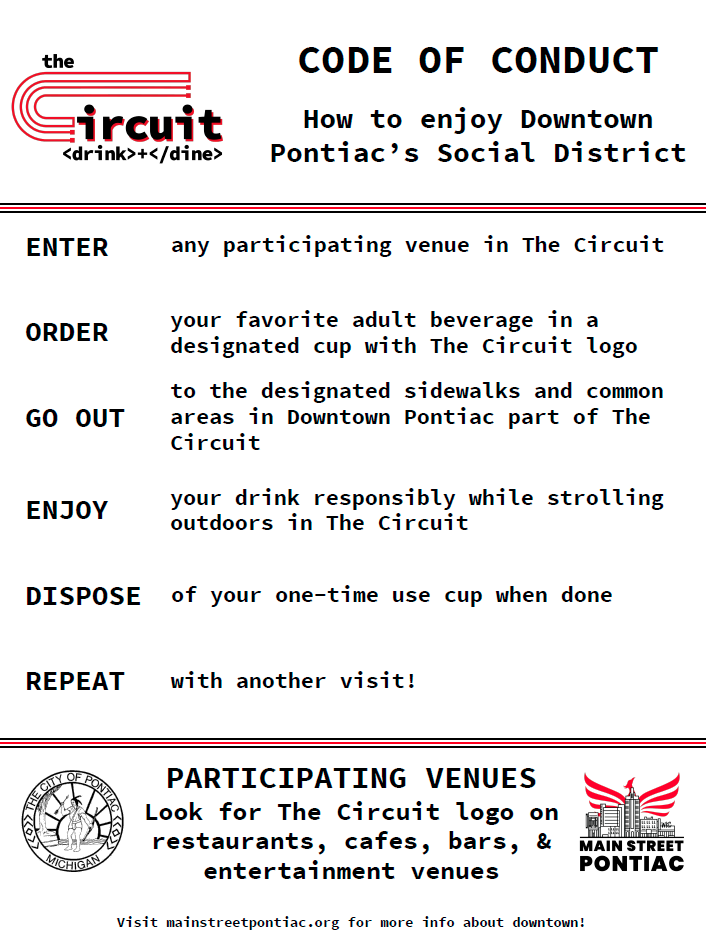 With warm weather now here, downtown Pontiac will soon be bursting with life, excitement, and better yet, cold drinks!